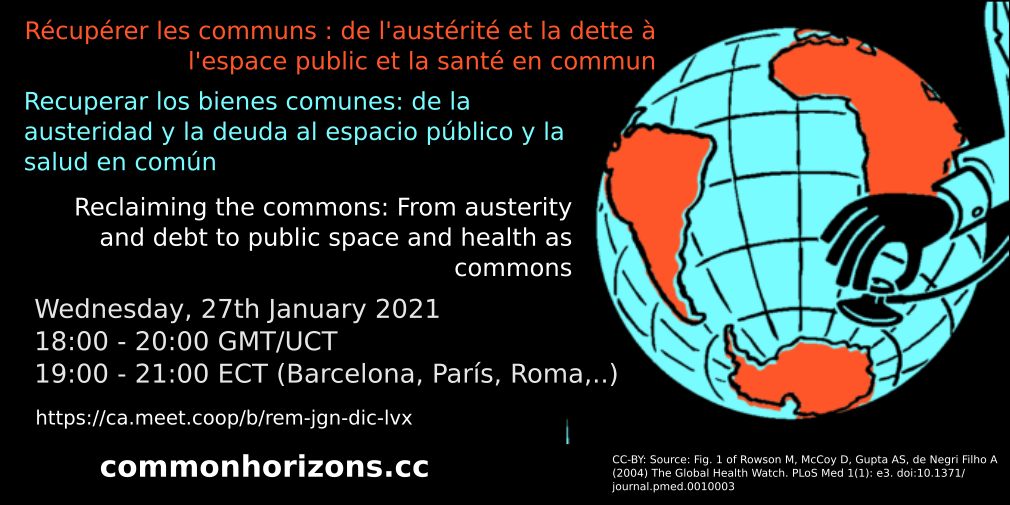 From one crisis to another. From the economic crisis of 2008 to the crisis of Covid-19. We have experienced the impact of cuts to public services and we have seen communities and activists respond with mutual aid and self organising spaces of collective care, where communities conceive health and care in an expanded way: not only by providing access to medical services and equipment, but also by providing solidarity in the form of psychological support, defence against domestic violence, support in struggles for housing and income and sustaining environments for cultural production.
This event is intended as a space for the presentation of initiatives and for shared reflection on the ways activists have self organised in response to these crises.
To start the dialogue and introduce participants we will share testimonies and collective experiences in advance of the event.
The Program
Online Meeting Room 18:00-20:00 GMT/UTC
The event will take place online and will be hosted on the cooperative conferencing platform meet.coop :
https://ca.meet.coop/b/rem-jgn-dic-lvx

The event in brief
We will take a few minutes at the beginning to assist people as they arrive to explain the arrangements for translation.
Stories (15 mins)
Fanny Mallinen – Organising against debt
Collective Dialogue (20 mins)
The group discussions should give consideration to – problems, challenges, strategies, perspectives, for recognising and making visible the commoning of care and health. We ask that some participants in the groups volunteer to take notes in pads. If working in small groups a volunteer should prepare a short summary of their discussions to present to the broader group in the concluding assembly.
During these discussions please keep in mind that this is not simply an opportunity to present projects, this is a moment for dialogue, networking and strategizing among movements, learning from each others struggles. When discussing experiences and projects consider how they relate to the work of others or might inform and support transformative movements more generally.
Preparing for the event
Technical details for the event:
Telegram
If you have any inquiries about the event or want to follow updates, please join our telegram group.
If you are interested in volunteering to support the organising process, translation, or promotion. You can also reach us there.
https://t.me/joinchat/DQCT6RbE2p2Lq6D4qId44Q
Collaborative Note-taking and Multi-Lingual Support
The event will be accompanied by a process of volunteer led, collaborative note-taking, this process will include multi-lingual support whereby the discussion will be directly transcribed into the following languages – English, French, Italian, Spanish. For this reason it is important for all participants to have access to the pads during the event.
What is Common Horizons?
Common horizons (for the common movement) is a proposal based on the recognition of the diversity of gender, de-colonialism (north/south), and the diversity of opinions and ideological approaches that make up the commons movement. It aims to create conditions for collectively addressing strategic issues for the commons informed by a process of open dialogue with the mixed production of documentation in terms of knowledge (academic/practical), culture and languages, forms of expression (modes of expression, analogue/digital, artistic/journalistic…) and of encounter (offline/online). Common Horizons gives continuity to the process started between 2018 and 2020 within the commons movement of the WSFTE (World Social Forum of Transformative Economies) and the process of confluence, for activism and commons practices through Commons Camps